Ausstellungprojekt 2009:
"in_keinster_weise_nachhaltig_verortet" – Hierarchien im Kunstbetrieb

Kazuko Miyamoto & Toki Ozaki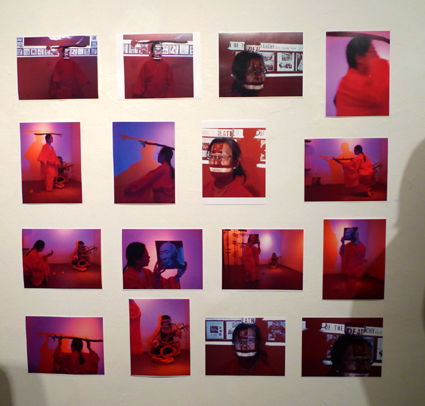 Performance Documentation Photographs (#1 – #16), Laser Print, 2008
Kazuko Miymoto & Toki Ozaki (2 Japanerinnen, leben und arbeiten in NYC) präsentieren Videos und serielle Prints aus einer Performance.
Die Künstlerinnen verbinden östliche und westliche Kulturtraditionen in ihren Performances. Sie erzählen Geschichten, sprechen von Brüchen und Verbindendem, appellieren an die Erneuerung von Festgefahrenem, lassen autobiografisches einfließen und komponieren "Poesie" mittels Tanz, Musik und Elementen der Bildenden Kunst.

Performance by Kazuko with Toki Ozaki – Video (17 min.),
filmed by Mary Beth Edelson, 2008

KAZUKO MIYAMOTO
Kazuko studied at the Art Students League in New York City and at the Gendai Bijutsu Kenkyujo Studio in Tokyo. She says of her work: "In the ´70´s, I made many constructions using nails and string. Around 1995 I started dancing. Now I combine these two elements into a collaboration combining the creative structure of both art forms." In 1986, she founded Gallery OneTwentyEight in the Lower East Side in New York City, where she currently serves as Director. Miyamoto has shown her work in the U.S., Japan and in Europe at Marilena Bonomo Gallery / Italy; the Lodz Biennale / Poland; Neue Galerie Linz / Austria; The National Museum of Modern Art / Japan …..She received the Francis J. Greenburger Foundation Award in 2003 and the National Endowment for the Arts, CAPS in 1980.
Kazuko Miyamoto lives and works in New York.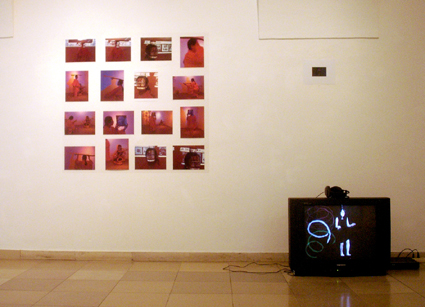 Toki Ozaki –
"Untitled"
– Video (40 seconds), 2004
TOKI OZAKI
Creates videos, installations, sound-works and sculptures. Toki Ozaki's work is showing in the US, Europe and Japan. She studied at Tama Art University, Tokyo, Japan and received her MFA from Hunter College in New York, NY. She also studied as extension class about computer music at Computer Music Center (CMC) in Columbia University, NY. Recently, she has been working with many other media artists, such dancers, musicians to make collaboration pieces. She is actively showing in her performing pieces as well as her 2D works. She is also in practice of Japanese traditional music under the teacher who is the master of Shamisen from Japan. Toki Ozaki lives and works in New York.